The V-1HD has 4 identical input channels, meaning that the video format of your sources has to match the FORMAT switch's setting on the back of the V-1HD, as well as the Frame Rate menu setting.
This setting also applies to the HDMI OUTPUT, so if your monitor, recorder, encoder, or capture device does not support the FORMAT and Frame Rate, it may not display video.
A common example of this issue is when you output 1080P at 59.94 to an older device that supports a max resolution and frame rate of 1080P at 29.97. It will not support the V-1HD's higher bandwidth signal, unless you change the FORMAT to 1080i or 720P.
When you connect your video sources (cameras, laptops, etc.) to the V-1HD, and you either see scrambled or black video in the PREVIEW quad-view output, it is likely that the video format(s) of your sources do not match the V-1HD.
Another way to confirm this is to look at the channel select buttons on the A Bus and B Bus rows. If the LED's flash white on and off, the current source signal is not compatible with the V-1HD's FORMAT and Frame Rate settings.
How to Adjust the Video Format
First, confirm your Frame Rate setting. On the V-1HD hardware panel, press and hold [ (TAP)BPM ] for 2 seconds to open the SETUP Menu.



Note: This displays the SETUP menu on the monitor connected to the PREVIEW output connector.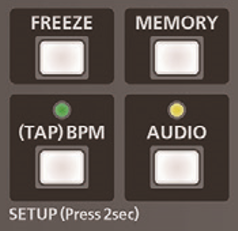 Using the [ TRANSFORMER DOWN ] button, navigate to Page 9/9.



Note: With System Software version 2.0 or later, you can use the [ MIX ] and [ CUT ] buttons to quickly navigate menu pages.


Set the 4th option, FRAME RATE.
FRAME RATE depends on your geographical region's video standard. If you are in the U.S., it is 59.94 Hz.


On the back of the V-1HD, there is a 3-way switch labeled FORMAT.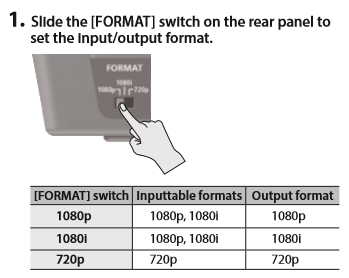 FORMAT is the system-wide resolution. Set it to a value that your cameras support and best fits your workflow.
Here are the key differences between the three format settings:



720P

is 59.94 frames per second, but is a lower resolution than 1080.

This is great for fast-moving content like sports, but some newer camcorders may not support it.



1080i

is 29.97 frames per second, comprised of 59.94 interlaced fields.

This may cause issues with fast-moving content due to interlacing.



1080P

is 59.94 frames per second, and provides the best quality.

Some older camcorders may not support this resolution at 59.94 frames per second.



Note: Because the V-1HD uses HDMI and not SDI, there are generally more options for cameras that support 1080P 59.94, so this setting generally gives you the best quality.

With your sources connected, if you do not see them on the PREVIEW output, check the documentation for your cameras to determine how to change the output resolution so that it matches your V-1HD system FORMAT. The signals should start to appear on the PREVIEW output.
Additional Troubleshooting
Some cameras require that you reboot them after changing the video format.
Some PTZ cameras require you to change the resolution with DIP switches or dials on the back or bottom of the camera. Others will let you change it via its system menu, or remote software.



Note: Check the Owner's Manual for your camera before changing your video format. If you change to a format your display does not support (like 50 Hz), you may lose picture on standard displays until you can change it to a compatible resolution.

Some PTZ and security cameras output only 60 frames per second and not 59.94, so they may not display on the V-1HD.
Some camcorders and PTZ cameras list 60 frames per second output in the menu, but they actually output 59.94.
If you experience any visual artifacts with interlaced video sources, you can also adjust the DEINTERLACE MODE setting in the SETUP menu: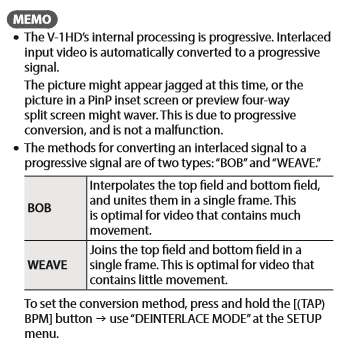 More Information
For more information about HDMI input settings, refer to the V-1HD Owner's Manual.
Note: This is a separate document from the RCS Owner's Manual and Remote Manual.