The VR-1HD's USB Audio/Video output is a plug-and-play solution for live streaming and video recording. It converts your VR-1HD into "one big webcam" that you can use with compatible software.
But some computer and USB cable combinations may not capture the VR-1HD's video signal and only capture the audio. This guide will walk you through troubleshooting the following:
No video or audio via USB
Only audio via USB
Video freezes indefinitely via USB
If you have an issue where the video briefly freezes and resumes, that may be an issue with your streaming settings or upload bandwidth. Run a speed test to see if your upload speed is fast enough. If your video stream's bit-rate is 4 Mbps, for example, your upload speed should average 10 Mbps or higher. More information in this guide.
If you recently updated to OBS version 26.0.0, you may need to delete your Sources and add them again to see the VR-1HD's video signal correctly. More info on adding sources is in this guide.
Before we begin troubleshooting, here is a connection sequence to try if you are having issues:
Disconnect USB 3.0 cable from computer

OK to leave connected to VR mixer

Turn on the computer

Or wake from sleep mode, but restart if having issues

Turn on the VR series mixer
With both devices full loaded, connect USB 3.0 cable directly to computer
Wait a few seconds, and open configured streaming/recording software
Confirm you selected and see the switcher's selected video input
Here are some potential causes of USB Video Failure, which are covered in detail in the sections below:
USB Cable

Not Fast Enough
Too Long
Not Shielded

Computer

Port Issue
USB-C Hub Issue
USB Video Bandwidth Issue
Settings Issue
3rd Party Device Issue
UPDATE THE FIRMWARE
Before you begin troubleshooting, go to MENU > SYSTEM > VERSION, and confirm it is 1.20.
If not, update the firmware to the latest version:
It is strongly recommended to also perform a Factory Reset after updating, as this may resolve the issue before any troubleshooting:
Go to Menu > System > Factory Reset > Yes

(The Menu appears on the MONITOR HDMI output, or in the RCS Control Software)

Troubleshooting Video
CHOOSE THE RIGHT USB CABLE
The USB cable should meet the following criteria:
USB 3.0 Super Speed
Type A to Type B male connectors
Type C to Type B will also work
Between 3-15 feet long
USB 3 Type B connectors have a different appearance than USB 2, and take up the space of the entire port on the VR-1HD.
Here is an example of a USB 2 cable in a USB 3 port. Notice how the top portion of the port is still visible: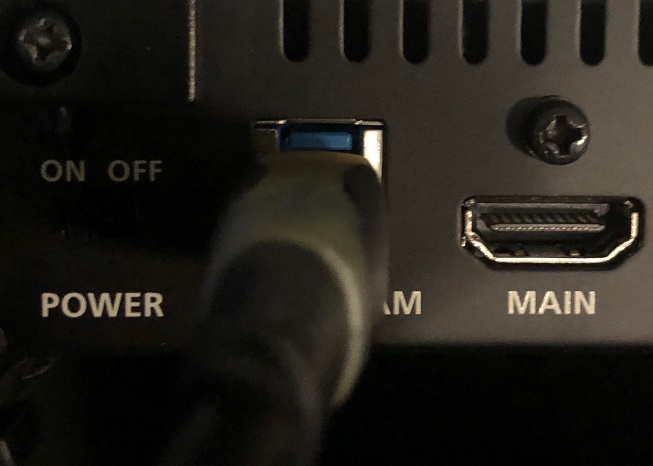 Based on our testing, here are some recommended USB cables for your VR-1HD:
Recommended
Tripp Lite

U322 Series Recommended
U328 Series Not Recommended

Star Tech

USB3SAB Series Recommended

Belkin

F3U159B Series Recommended

Amazon Basics

"USB 3.0 Cable - A-Male to B-Male Adapter Cord"
Not Recommended
Cable Matters

200007 Series Not Recommended

Hosa

USB3xxAB Series Not Recommended

xx is the length in feet: 03, 06, 10

JSAUX

"USB 3.0 Cable A Male to B Male"
ON AIR BUTTON
Make sure the ON AIR button is lit red, if it is off, Fade to Black is enabled.
TURN OFF HDCP
Set the following menu setting: MENU > SYSTEM > HDCP > OFF

(The Menu appears on the MONITOR HDMI output, or in the RCS Control Software)

If HDCP is on, it disables the USB output.

The VR-1HD supports many video source devices, but DVD/Blu-Ray players require HDCP to be turned on in the system settings. Once enabled, the signal will pass through.

If the VR-1HD's HDMI output is connected to a recording or streaming device, even with HDCP enabled, that device will block the DVD/Blu-Ray player's HDCP copy-protected signal passing through the switcher.
RECONNECT THE USB CABLE
Disconnect the USB cable for a few seconds from the computer, and then reconnect it.


This physically resets the connection.
CONNECT STRAIGHT TO A COMPUTER USB PORT
Try bypassing any USB hubs or extenders.

Some powered USB hubs may work, but passive hubs are not recommended.
If your computer only has USB-C ports, try a single-port USB Type A to Type C adapter.

If using a Mac, try this adapter, do not use ones with multiple ports.
TRY A DIFFERENT PORT
Try a different USB port on the computer.

Note: Some older computers may have a mix of USB 2 and USB 3 ports.
DISCONNECT ALL OTHER USB DEVICES
Try disconnected any other devices connected. Safely remove any hard drives and try again.

Note: If using a desktop, try only connecting monitors via HDMI, and remove all USB and Thunderbolt devices except for an HDMI monitor and USB mouse.
RESTART THE COMPUTER
Try the following:



Shut down your computer and VR-1HD.


Unplug all USB devices.

Note: Most computers can only support a single USB video device. Disconnect any USB cameras before reconnecting the VR-1HD.



Turn on your computer and VR-1HD, and allow both to fully load.
Connect the VR-1HD directly to a USB port.

Note: Bypass any hubs or extenders.
Note: USB-C adapters are ok to use, as long as they are not hubs.



Open your streaming/recording software/website.
CHECK THE LABELED PORT SPEED
If using an older computer, check if the port is labeled "SS", or Super Speed.

Note: Many ports today are Super Speed, but not labeled
Note: Many (but not all) Super Speed cables and ports have blue plastic in the connectors
CHECK THE USB SPEED/FORMAT
Go to the following sub-menu: MENU > VIDEO OUTPUT > USB STREAM

The Menu appears on the MONITOR HDMI output, or in the RCS Control Software



Next to STATUS, it should read SUPER SPEED.

If your USB STATUS is SUPER SPEED and you experience the USB signal freezing, try changing the USB FORMAT, more on that below.



If the status is HIGH SPEED or NO CONNECTION, select the [ CONNECTION RESET ] function, and check the connection status again.

If that does not resolve the status issue, there is an issue with your USB 3.0 cable, or the computer's USB port itself, as it is not fast enough for video.
How to Change the USB FORMAT:
Go to the following sub-menu: MENU > VIDEO OUTPUT > USB STREAM > USB FORMAT



These available options include: 1920x1080/29.97p, 1280x720/59.94p, 1280x720/29.97p, 854x480/59.94p, and 854x480/29.97p

50 Hz operation has different frame rates for the output settings



If your USB STATUS is SUPER SPEED and you experience the USB signal freezing, try 1280x720/29.97p and test again.


If your USB STATUS is HIGH SPEED and you have a USB 2.0 cable, try 854x480/29.97p and test again.

To get HD quality USB video, you will need to upgrade to a USB 3.0 cable capable of SUPER SPEED.
GRAPHICS CARD GPU CONFLICTS
If your computer has multiple graphics adapters or GPU's, trying setting your computer to only use one of them. Some applications will switch between GPU's, and this can cause USB video to freeze until the connection is reset.
Windows 10 Support Articles:
SOFTWARE CONFLICTS
If you experience video that stutters or fails, and your computer meets the system requirements, first check if any other camera, capture, conferencing, streaming, or recording programs are open. These may cause conflicts that cause your signal to drop out.

For example, do not run FaceTime and VR Capture at the same time. It may work initially, but performance could be unpredictable.
In addition to restarting your computer as suggested earlier, closing any programs you do not need is recommended, even programs like your web browser can consume a lot of resources and impact performance on older machines. Also check your system tray in Windows to see if any programs are running there as well.
TRY A DIFFERENT CABLE
Try a different USB 3 cable, preferably one with shielding and ferrite beads, and no longer than 15 feet.
TRY A DIFFERENT USB ADAPTER
If using a USB-C adapter:


Unplug the adapter from the computer and the USB cable from the adapter. Then, plug the adapter back in, followed by the USB cable.
If the adapter is a breakout cable to multiple connectors, disconnect any other video devices or bus-powered hard drives.
Try a different one if possible.
TRY A DIFFERENT COMPUTER
It's possible there is an issue with your computer's settings, or EMI is affecting it. Trying a different computer may help, at least for cross-testing to narrow down the problem area.
UPDATE THE COMPUTER
Windows 10

Get the latest Windows Updates
Update the drivers for your Display Adapter and USB Drivers

Your PC's manufacturer may also have an update tool you can download and install
Only manually download driver updates from the manufacturer's website
Several customers reported that updating the USB Drivers for the USB Host Controller and Root Hub resolved their issue
MacOS

Update your Mac to the latest version for your hardware, if possible
There are no individual driver updates for the Mac hardware itself
Windows 7 is not recommended, Microsoft stopped supporting it as of January, 2020.
REVIEW SLEEP AND USB POWER SETTINGS
Check your power settings. On Windows, this means selecting "High Performance" if available, or maximizing a profile for performance. On Mac, this means adjusting your Energy Saver System Preferences to prevent it from going to sleep. More details below:
SLEEP SETTINGS
Your Windows or Mac sleep settings may be affecting the USB connection. If this happens consistently and the restart resolves it, you may need to verify and adjust your sleep and or power settings.
USB SETTINGS
If you continue to have related issues, you can also adjust your USB power setting in Windows 10, or verify the USB power consumption in MacOS.
CHECK THE PCIe BIOS SETTINGS (WIN10 DESKTOP ONLY)
It's possible there is an issue with your computer's PCIe (PCI Express) BIOS settings. Someone with UVC device freezing issues changed the PCIe version from 4.0 to 3.0, and that resolved the issue for their capture device.

This solution has not been linked to VR Series mixers, but it is worth considering as advanced troubleshooting.
REMOVE DEVICE DRIVER AND RECONNECT (WIN10 ONLY)
With the VR-1HD connected via USB, press the Start button in Windows 10, and start to type in "Bluetooth and other devices settings", until it appears on the list, and click on it.
In the window that appears, select the following, and click on Remove Device for each one:

VR-1HD(Audio)
VR-1HD
VR-1HD(MIDI)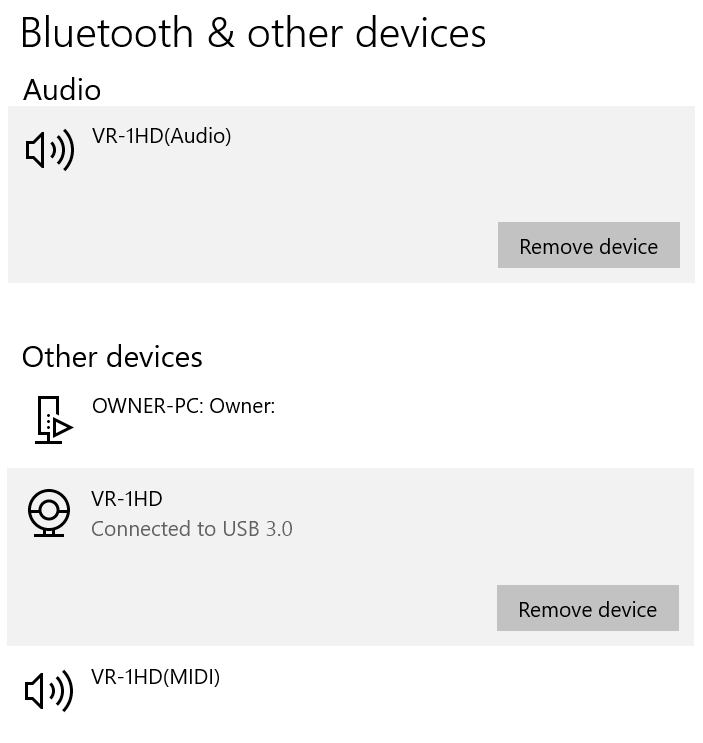 When finished, disconnect the VR-1HD via USB, close the window, wait a few seconds, and connect the VR-1HD via USB again. Let the drivers install again (you may see notifications in the bottom right corner of Windows), and then test in your capture software of choice.
RESET THE SMC (MacOS ONLY)
Resetting the SMC (System Management Controller) on MacOS will reset your USB ports with regards to power issues, which may help if you have USB connection issues. The steps to do this are in this article.
RESET THE PRAM (MacOS ONLY)
Resetting the PRAM on MacOS may help as well if you still have USB issues. The steps to do this are in this article.
TRY A DIFFERENT ROOM
It's possible there is an issue with EMI in your room. Try setting up in a different room and different electrical circuit, and see if the problem occurs there as well.
ELECTROMAGNETIC INTERFERENCE
Another issue could be electromagnetic interference, or EMI. Does your USB cable have shielding, or ferrite beads? If not, in rare cases EMI can interfere with your cable's USB 3.0 connection and not pass a video signal.

Note that in this situation, USB audio may not be affected and function normally.


Circled in red is an example of a ferrite bead:

If you have ferrite beads that you can remove from a spare cable, clip them onto your USB cable near the connectors, and see if that resolves your issue. Packs of clip-on ferrite beads are also widely available to purchase online.

It may also help to clip some onto nearby HDMI cables and power supply cords.

They look like the below image. Note that some ferrite beads do not have clips, they are molded to the cable during manufacturing and can not be removed:

If you experience interference issues in your equipment setup, please try a shielded USB cable with ferrite beads.
Additional Troubleshooting
RECORDING ISSUES
If you experience record issues using our free VR Capture software, please try recording to your system drive, and not an external drive


If you record to external media, like a USB flash drive, format the drive between recordings

Also make sure the drive is fast enough for HD video recording, and connected to a Super Speed USB 3.0 port as well.
DISABLE SCREEN SHARING SOFTWARE
If using a Mac with Screen Sharing enabled, temporarily disable it and test again
There may also be a compatibility issue with Edovia Screens 4 for MacOS. If you use this software, disable it, restart your computer, and test again, while we look into this issue.
LOW RESOLUTION MODE (MacOS ONLY)
If using a Mac with a newer OS and a high resolution desktop (like a Retina display), you can try opening VR Capture or your streaming and recording software in low resolution mode:

Close VR Capture (or alternative software).
Go to Finder, followed by Applications.
Right-click on VR Capture (or alternative software), and select Get Info.
Check the box for "Open in Low Resolution".
Reopen the software, and test again.
More information available in this article.
DISABLE CAMERA APP IN BACKGROUND (WIN 10 ONLY)
It's possible the Camera app is running in the background, and will not let you open another USB webcam source. You can disable it in System Settings > Background Apps and try again.


Press the Windows key, and start to type "background apps" until it appears, and click on it from the search list.


Look for Camera on the list, and click on the slider button to turn it off. Re-load your capture/streaming application, and see if it accepts the VR Mixer's USB signal.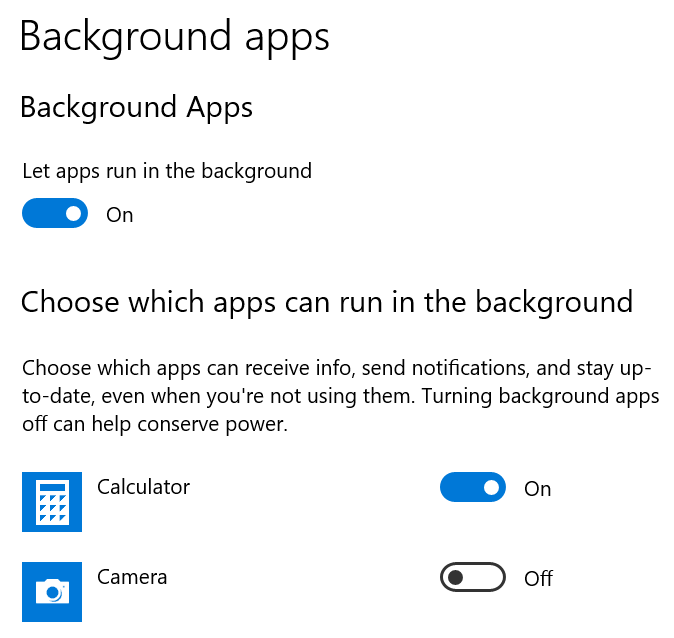 Troubleshooting Audio
CHECK THE AUDIO LEVELS
Make sure the [USB STREAM] knob is set to the 2 o'clock "dot" position on the VR-1HD panel. This knob is a separate audio control for your USB output, and sets it as 0.0 dB, the same level as your main mix.
VERIFY USB AUDIO SOURCE
Streaming services and recording software that support USB sources basically treat your VR-1HD as a webcam, and you will need to select the VR-1HD Video and Audio separately.


For example, in our free VR Capture recording software, choose the VR-1HD as your Video Input, followed by the VR-1HD(Audio) as your Audio Input.
Next, input audio into your switcher, and you should see the audio meters moving in your software or web interface.


If you are using a Mac and do not see the Audio Input menu in VR Capture, downsize the software window until it appears.
PRIVACY AND PERMISSIONS
Both Windows 10 and MacOS have Privacy settings that may block access to your microphones. In this situation, it will treat the VR-1HD's USB output audio as a microphone source.

Adjust your computer's settings so that it allows your software of choice to use the VR-1HD as a microphone source
More Information
For more information about the USB output, refer to the VR-1HD Reference Manual.
Note that this is a separate document from the Startup Guide, or the RCS Owner's Manual.