On the V-1SDI, you can change the following on the Multiview output:
Turn on/off Text Labels

Turn on/off Tally Borders

Red and Green boxes around A and B bus sources

Turn on/off/position Audio Level Meter



Note: On the V-1HD, you can only position the audio meters.
Configuring the Multiview
On the V-1SDI panel, press and hold [ SETUP ] for 2 seconds to open the SETUP Menu.



Note: This displays the SETUP menu on the monitor connected to the MULTI-VIEW output connector.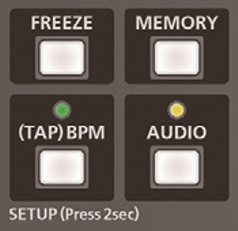 Using the [ AUTO ] button, navigate to Page 15/16, SYSTEM.



Note: You can use the [ MIX ] and [ CUT ] buttons to quickly navigate menu pages.


Set the 1st through 3rd options: PVW INDICATOR: LABEL, TALLY, and AUDIO LEVEL METER.


Using the Fader Bar, change the setting to customize the Multiview to your preferences.


In addition to turning the AUDIO LEVEL METER on/off, you can also position it along the UPPER or LOWER areas of the Multiview.
More Information
For more information about the Multiview Output, refer to the V-1SDI Reference Manual.
Note: This is a separate document from the Owner's Manual and RCS Owner's Manual.