Open Zenbeats and click the "Store" icon. The price of each pack will be displayed in points. Each point equals $1.00 or its equivalent based on the current exchange rate for your country or region.

Choose items from the Zenbeats store and add them to your cart. Then, click "Cart" to continue.

The cart will display the items you've added. Choose "Check Out" to complete your purchase.

(In the Windows and OSX versions of Zenbeats, you can use a credit card directly in the app to make purchases. All credit card purchases are processed through FastSpring. Roland and Zenbeats do not retain any credit card information. In Android and iOS versions, purchases are processed through the Google Play or iOS stores)
- The actual payment method used through FastSpring varies by country/region.

After checking out, go to "My Stuff" to download your content.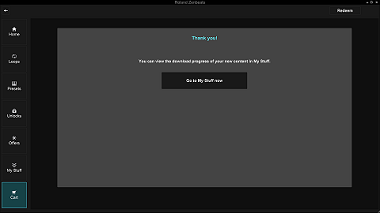 Download your items and they will be ready to use within Zenbeats.