If you do not hear audio output from your V-HD, here are some troubleshooting tips to help determine the cause of the issue:
If you do not hear audio on your Program HDMI OUTPUT port, check the firmware version. If you have an earlier version, try updating before troubleshooting further.
The easiest way to begin troubleshooting is with a factory reset. Please follow this guide to reset your settings and test again.
Press the [AUDIO] button to open the audio menu, which appears on your MULTI-VIEW output.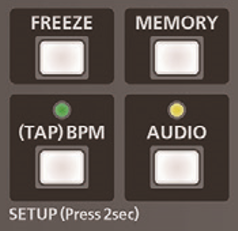 On the first page of the audio settings, check the levels for your Inputs and Master Output. The default value is 100. If it is -INF, then it is muted.
Use the Transformer [UP] and [DOWN] buttons to highlight the setting you want to adjust, and then use the slider bar to adjust the value.

On the next page, check that Audio Follows Video is turned OFF. If any inputs have it enabled or assigned, then the switcher will only output the audio when that source is selected.
Once your settings are confirmed or reset, you should hear audio from your analog and digital sources on all outputs.
If you do not, there may be a wiring or signal routing issue.
If outputting to an professional HDMI monitor, go into the monitor settings to confirm that it is monitoring audio on HDMI embedded channels 1 and 2. Some monitors allow you to choose a different pair or channels to monitor the audio on.
If none of the above solutions work, please contact support and we can troubleshoot further.
More Information
For more information about setting up Audio, refer to the V-1HD Owner's Manual.
Note: This is a separate document from the RCS Owner's Manual and Remote Manual.