Note: Zoom has a feature called "Group HD Video", which is not available for all accounts at this time. If you have access to that feature in your account settings via your web browser, it's strongly recommended that you enable it for Meetings with 3 or more Participants, especially if you want to present detailed text via your Roland switcher. More info in this article:
If you do not have access to Group HD, after reading this guide, also read our guide on using Screen Share to increase your resolution without Group HD:
Connect the USB output of your VR Series AV Mixer to a USB 3.0 port on your computer, and then open the Zoom software on your PC or Mac.
This guide applies to the VR-1HD, VR-4HD, VR-50HD, VR-50HD MK II, UVC-01, V-4EX, and VR-3EX.
Images and settings reflect Zoom version 5.4.2 and are subject to change with future updates.
In Zoom's main menu, click on the gear icon in the top right corner to access the settings:
A few seconds later, a window will pop-up. Next, click on the "Video" button on the left sidebar:
If using a laptop with a webcam, you will probably see yourself on the screen.
Next, click on the drop-down lists for "Camera", and choose your VR Series AV Mixer from the list.
Also make sure to turn off Mirror My Video, as this will flip your image if displaying text:
Next, click on the "Audio" button on the left sidebar: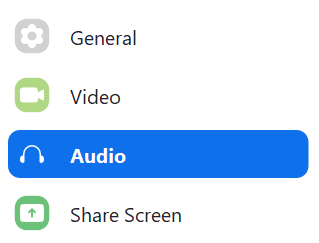 Next, click on the drop-down lists for "Microphone", and choose your VR Series AV Mixer from the list:
The "Speaker" setting should be set to your listening device. If you are listening through a speaker instead of headphones, configure and enable Echo Cancellation in Zoom or your VR Series mixer.
Please see Zoom's support pages or your VR Series AV Mixer manual for more information.
Echo Cancellation is supported by the VR-1HD, VR-4HD, VR-50HD, and VR-50HD MK II only.
The VR-1HD and VR-4HD can also act as a Zoom "Speaker" source, and that audio level can be adjusted using the VR-1HD Audio Input menu and VR-4HD [USB FROM PC] knob.
Once you Create or Join a meeting, you should see the main Program output of your VR Series AV Mixer as your Zoom video source.
If audio quality is an important part of your presentation, consider turning on Preserve Original Sound in Zoom. This will disable echo cancellation, so all parties need to wear headphones for this to work without significant audio feedback.
To do this, you first need to log into your Zoom account in the web browser, and enable these settings:
Next, open the Zoom desktop app, go to Settings, and choose Audio from the side bar on the left, and click on the Advanced button at the bottom of the settings.

First, enable Show in-meeting option to "Enable Original Sound" from microphone.
Now you can enable Use Stereo Audio and High Fidelity Music Mode, if needed.
Finally, when you are in a meeting, in the top left corner, click on Turn on Original Sound, and the button will turn blue.
You can also click on the arrow to the right of it to dedicate an audio source to this feature, like your VR Series Mixer, and have a separate microphone with noise cancellation enabled.
Note that original sound works best if everyone is wearing headphones, and testing these settings beforehand with 2 to 3 computers and/or mobile devices is strongly recommended.