This guide applies to the VR-1HD, VR-4HD, VR-50HD, VR-50HD MK II, and VC-100UHD.
The models covered in this guide have a USB Type B port on the back for streaming and recording video and audio with a computer.
These models do not include the USB cable for streaming and recording. The cable needs to be:
USB 3.0
Super Speed
5 Gbps

If it is 2.0, High Speed, and 480 Mbps, it will not work with HD video



Between 3 to 10 feet long


Longer cables may work, but they have not been tested



Type B to Type A connectors

For use with most PC's and some Macs



Type B to Type C connectors

For use with some Macs and PC's

A Thunderbolt cable is not needed
Some USB-C ports are only used for charging
Alternative: Apple adapter MJ1M2AM/A with a "B" to "A" cable
USB 3 Type B connectors have a different appearance than USB 2, and take up the space of the entire port on the back of your AV Mixer.
Here is an example of a USB 2 cable in a USB 3 port. Notice how the top portion of the port is still visible: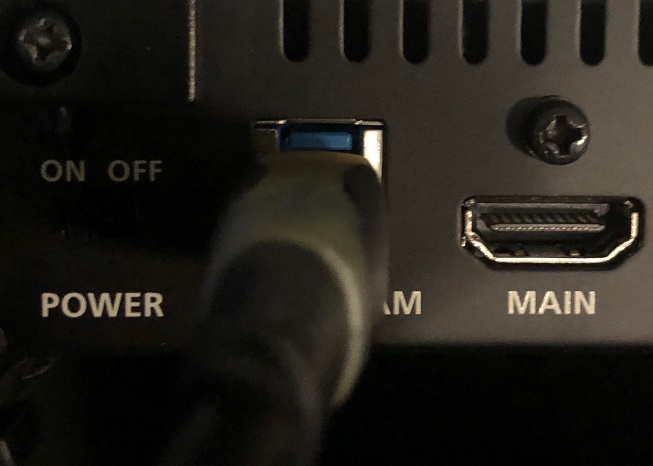 If you have any issues with USB video and audio, please use these troubleshooting guides:
Note: If you cannot find any cables in your country or region, please contact product support via Roland.com/Backstage and request a recommendation.
RECOMMENDED CABLES
These cables are known to work and have no reported issues:
| | | | | |
| --- | --- | --- | --- | --- |
| Brand | Model | Type | Speed | Length Tested |
| Amazon Basics | USB 3.0 Cable | B to A | USB 3.0 5 Gbps | 1.8 m / 6 ft |
| Belkin | F3U159B | B to A | USB 3.0 5 Gbps | 1.8 m / 6 ft |
| Cable Matters | 201007 | B to C | USB 3.0 5 Gbps | 1.8 m / 6 ft |
| Monoprice | 38614 | B to C | USB 3.0 5 Gbps | 1.8 m / 6 ft |
NOT RECOMMENDED
These cables will work with some systems, but have reported issues and are not recommended:
| | | | | |
| --- | --- | --- | --- | --- |
| Brand | Model | Type | Speed | Length Tested |
| Cable Matters | 200007 | B to A | USB 3.0 5 Gbps | 1.8 m / 6 ft |
| Pearstone | USB3-AB | B to A | USB 3.0 5 Gbps | 1.8 m / 6 ft |
| StarTech | USB3SAB | B to A | USB 3.0 5 Gbps | 1.8 m / 6 ft |
| Tripp Lite | U322 | B to A | USB 3.0 5 Gbps | 3 m / 10 ft |
| Tripp Lite | U328 | B to A | USB 3.0 5 Gbps | 7.5 m / 25 ft |
These cables do not work with any known systems:
| | | | | |
| --- | --- | --- | --- | --- |
| Brand | Model | Type | Speed | Length Tested |
| Hosa | USB303AB | B to A | USB 3.0 5 Gbps | 0.9 m / 3 ft |
| Hosa | USB306AB | B to A | USB 3.0 5 Gbps | 1.8 m / 6 ft |
| Hosa | USB310AB | B to A | USB 3.0 5 Gbps | 3 m / 10 ft |
| JSAUX | USB 3.0 Cable | B to A | USB 3.0 5 Gbps | 1.8 m / 6 ft |