This article contains links and information to help you get started with the UVC-02.
For additional support, please submit a ticket at roland.com/backstage
Quickstart Topics:
Click on a topic to jump to that section
---
PRODUCT VIDEOS
---
---
INSTRUCTION MANUALS
---
Inside the box is a copy of the Owner's Manual.
---
FIRMWARE UPDATES
---
The latest firmware for your UVC-02 is version 2.0.0.
Download the UVC-02 Tool. It is used for the following:

Automatically update the firmware version on your UVC-02
Customize, adjust, and control the UVC-02
---
CHOOSING CAMERAS
---
These guides help you choose the best type of camera for your workflow, set it up to output a compatible video resolution, and also output video without menu overlays or screen information.
---
VIDEO RESOLUTIONS
---
The UVC-02 has a multi-format HDMI input that supports a variety of resolutions and frame rates.
---
AUDIO SETUP
---
The UVC-02 has knobs to mix XLR, 1/8" TRS, and HDMI input audio, and output the mix via the USB output.
Using the UVC-02 Tool software, you can further adjust your audio settings and apply audio effects.
The knobs control the following inputs and outputs: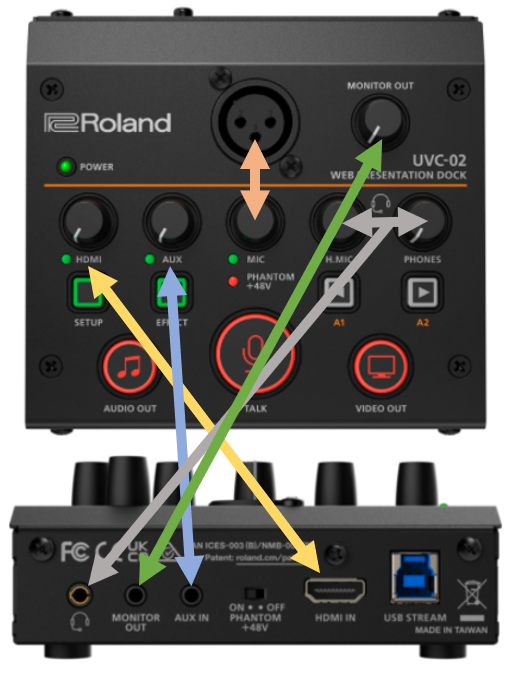 ---
CONNECTING LAPTOPS
---
In most cases, you will connect a single camera or a video switcher to the UVC-02's HDMI input. But if you want to set up another computer as your HDMI source, there are two ways to set up the computer's HDMI output to your UVC-02: Duplicate and Extend.
Duplicate creates a copy of your Desktop, including your Taskbar or Dock. Your mouse will appear on both screens.
Extend creates a clean desktop, and you can move your mouse between the two.
These guides walk you through general setup in Windows 10 and MacOS:
If you use software that generates visuals or plays media files, there may be additional screen output settings in the software:
---
STREAMING VIDEO
---
The USB port on the UVC-02 is only used for the following:
Output audio and video for streaming or recording with a computer
Adjusting settings using the UVC-02 Tool software
The UVC-02 gives you free access to Roland's AeroCaster Switcher for iPad. With this app, you can wirelessly connect and switch up to five sources (phone cameras, tablet cameras, laptop webcams, and laptop browser tabs), then output a combined program feed to an HDMI input on the UVC-02 or a Roland video switcher.
AeroCaster Switcher Product Page
Streaming Software Guides
Windows
Windows and Mac
Some of these guides focus on VR series products, but a UVC-02 is similar to the USB Streaming output on the VR series.
---
RECORDING VIDEO
---
You can record the UVC-02's USB streaming output with software that can record USB video.
Here are some software guides:
Windows
Windows and Mac
---
SOFTWARE CONTROL
---
The UVC-02 Tool software gives you more control over your audio settings and customizing the buttons.
It is available for both Windows and Mac on the UVC-02 Downloads page.
---
HDCP TROUBLESHOOTING
---
The UVC-02 supports many video source devices, but DVD/Blu-Ray players and Streaming Boxes will not pass a signal due to HDCP (High-bandwidth Digital Content Protection).
HDMI CAT Extenders: These are a pair of converters that extend an HDMI signal by converting it to Ethernet and back to HDMI again. These extenders may add HDCP to the signal, even if the source is a camera. Please check with the extender's manufacturer regarding compatibility. SDI converters or HDBaseT extenders are recommended as they do not add or require HDCP.
Game Consoles: These may have HDCP enabled by default for all games and content, or just for streaming services and disc playback. If you want to stream or record the Roland's output, then HDCP needs to be disabled on both the game console and the Roland. Consoles either do this automatically or have a menu setting. Check your game console's manual for more information.
---
PRODUCT IMAGES
---
Click each image for a larger version:
---
ADDITIONAL LINKS
---
UVC-02 Manuals

Owner's Manual, Reference Manual, Remote App Manual, etc.
---